Darryl 'DMC' McDaniels: Hip Hop Legend Breaking the Mold with Comic Creations

Darryl "DMC" McDaniels is a legendary musician and Rock and Roll Hall of Famer.
---
For more than 30 years he's been an undeniable influence on pop culture, and remains at the forefront of hip hop history.  Even with his long list of accomplishments Darryl plays it forward by continuing to create, inspire and motivate.
HIP HOP LEGEND BREAKING THE MOLD
"I wouldn't exist musically without comic books. Comic books gave me the courage to exist in this universe…every walk of life has heroes and stories worth telling."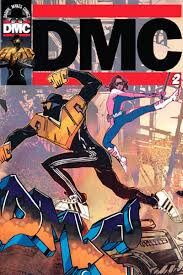 Turns out that music is not his only love. In 2014, McDaniels turned his life long love of comics into a new comic publishing company, Darryl Makes Comics (D.M.C.).
At this past New York Comic Con, we caught up with McDaniels and learned how he got into comics. He shared with us his favorite comic characters, explaining the courage comic books gave him as a young man and burgeoning rapper growing up in Queens.