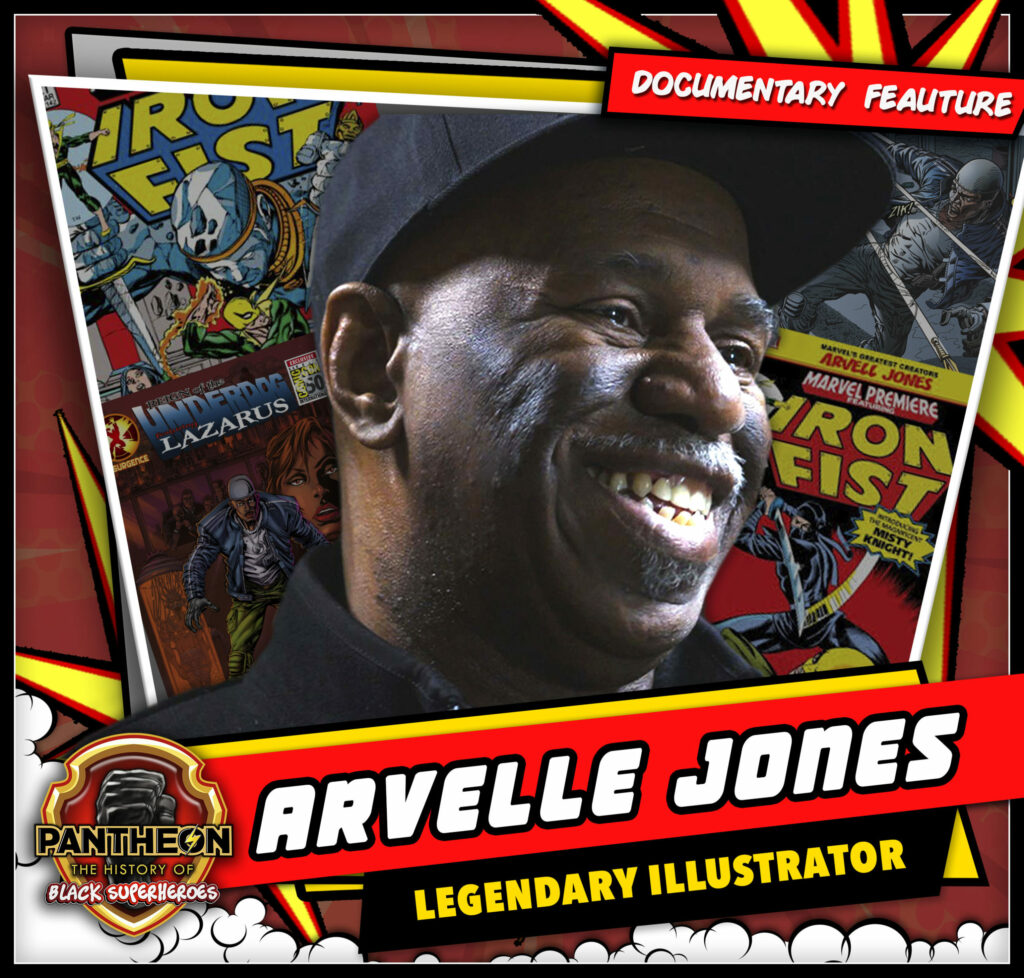 Arvelle Jones – Illustration Mastermind Creating Change Through Comics
Co-creator of Marvel's first African American Female Superhero!
American Comic Artist
---
2019 Ink Pot Award
Arvell Jones was awarded the Ink Pot Award at the 2019 San Diego Comic Con!
---
One of the first black artists at Marvel Comics!
---
CONNECT WITH ARVELLE
While working on the Iron Fist comic series, he, and Tony Isabella co-created the character "Misty Knight." This, along with two other characters (also co-created by Mr. Jones) Cockroach Hamilton and Parana Jones, have been featured in three Netflix's series – Luke Cage, The Defenders, and Iron Fist.
His work can also be seen in these legendary Marvel titles – Thor, Captain America, Iron Man, Black Panther, The Avengers, GI Joe, Luke Cage, and the Daredevil!
During the early 80's, Mr. Jones also worked on the All-Star Squadron for DC Comics. Penciling such icons as Superman, Wonder Woman and SHAZAM!
In 2017, he was asked to contribute his original concept art for teaser promo posters for Marvel's 2018 Black Panther film.
His work will be spotlighted with the reprinting of Marvel Premier #21 the first appearance of "Misty Knight!"
DC Comics
All-Star Squadron #37, 41–46, 50–55, 57–60, 67 (1984–1987)
DC Special #28 (Legion of Super-Heroes) (1977)
DC Special Series #6 (Secret Society of Super Villains) (1977)
Men of War #2–3 (Codename: Gravedigger) (1977)
Secret Origins vol. 2 #19 (Guardian) (1987)
Superboy and the Legion of Super-Heroes #241–242 (1978)
The Superman Family #191–193 (Supergirl) (1978–1979)
Super-Team Family #12–15 (1977–1978)
Who's Who: The Definitive Directory of the DC Universe #16 (1986)
Marvel Comics
Astonishing Tales #30 (Deathlok) (1975)
The Avengers #192 (1980)
Captain America Annual #13 (1994)
Daredevil #343 (1995)
G.I. Joe: A Real American Hero #62 (1987)
Iron Man #73–75, 77 (1975)
Marvel Premiere #20–22 (Iron Fist) (1975)
Marvel Spotlight #33 (Deathlok) (1977)
Marvel Two-in-One #15 (The Thing and Morbius, the Living Vampire) (1976)
Monsters Unleashed #9 (1974)
Nightmask #5 (1987)
Official Handbook of the Marvel UniverseDeluxe Edition #12 (1986)
Power Man #30 (1976)
Star Brand #8 (1987)
Super-Villain Team-Up #17 (1980)
Thor #228, 290 (1974–1979)
What If…? #37 (The Thing) (1983)
Milestone Media
Blood Syndicate #4 (1993)
Hardware #9 (1993)
Kobalt #1–6 (1994)